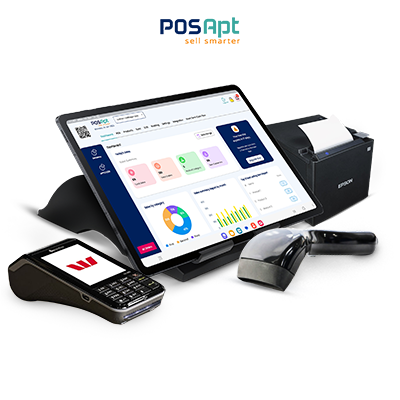 About the POSApt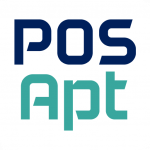 POSApt is an all-in-one point-of-sale system designed for Australian restaurants with the notion of being the best in the business. With advanced features such as table booking, multi-payment support, inventory management, and enhanced customer relationship management, it's the perfect solution for food service establishments looking for a reliable, user-friendly and affordable cloud POS solution.
Features of POSApt Restaurant POS Software
Cloud-Based POS Solution
Because POSApt is a cloud-based POS system, you can use it from any device and from anywhere around the world, as long as you have an internet connection. This means that you don't need to be in your restaurant or workplace to manage or oversee the business.
Real-time Sales Report
All the transactions such as sales, discounts and loyalty points are recorded in the system and you can easily view them in real-time. These real-time key metrics on your dashboard give you insights into how your business is performing and help you make informed decisions.
Multiple Payment Options
It's 2023 and there are many ways someone can pay. So your restaurant shouldn't be the one making payment tough or awkward for your customers. Fortunately, with POSApt you can accept multiple ways of payments any way your customers want to.
Software Integration
If your business already relies on software tools such as Xero or 3rd party delivery apps such as Ubereats, it can be a relief to know that you can easily and for no extra cost integrate these applications with POSApt. They will help you integrate if you find trouble getting it done yourself.
Gift Cards, Vouchers and Loyalty Points
Managing customer relationships is always a top priority in any business domain. Make it easier to improve customer retention by using inbuilt CRM tools such as gift cards, vouchers and loyalty points to attract engagement and interest in your business.
Affordable for All
POSApt also has very simple and straightforward pricing plans with no hidden fees. There's a monthly fee that goes with a one-time hardware cost and that's it. You don't have to pay for any customer service, software updates or integrations.
POSApt overview
One of the system's notable advantages is its user-friendly interface, which makes it easy for you and your restaurant staff to easily navigate and use the system to its full potential. Upon installation, you also receive personalised, hands-on training from a professional, ensuring a smooth transition to full operational efficiency. Additionally, POSApt includes free integration of accounting and 3rd party applications such as Xero and UberEats. If your restaurant already uses these apps, you won't have to worry about switching to something else.
However, the hallmark of POSApt is its exceptional customer support. Available 24/7, this assistance is provided at no additional cost, giving restaurant owners peace of mind. The support team promptly responds and resolves issues whenever they arise, ensuring uninterrupted operations for their valued customers.
So what type of businesses is POSApt's cloud POS software ideal for? Well, here's a list of businesses that should invest in this system:
Restaurant

Cafes

Bars 

Bakery

Flower shop

Groceries

Liquor store

Jewellery stores

Clothing stores
Who is POSApt for?
Hospitality Industries
1.Restaurant
POSApt's POS system is great for restaurants to accept and manage orders, handle payments, manage inventory and make necessary integrations with your existing tools and software. It is a whole package that enables restaurants in Australia to unlock their full potential without needing to worry about the management software or hardware.
2.Bakery
Whether your bakery is located in Sydney, Melbourne or anywhere in Australia, having a robust POS system that can handle the rush hours without crumbling is gold. That's where POSApt shines. It is an affordable solution that comes with robust customer service for smooth and hassle-free point-of-sale operations.
3.Bars
Whether you're the owner of a nightclub or a bar, keeping things modern and classy can be a struggle without a proper POS system. Setting up POSApt is the first step towards that goal and getting your Bar ready to compete with the likes of the fierce competition around you. Their POS solution not only takes care of the software side of things but also hardware, setup, and recurring customer support, all under an affordable monthly subscription.
4.QSRs
A quick service restaurant like a fast food joint needs to be quick to accept orders, quick to process payments and quick to serve all customers. What better way than by installing a POS system like POSApt that can streamline all business operations.
5.Cafes & Coffee Shops
Australia's coffee culture is rich, and your cafe and coffee shop have the potential to satisfy coffee aficionados from all over the world. To begin with, set up a dedicated POS system like POSApt that enables you to forget about the managing part of business and focus on making the perfect cup for your customers. 
6.Pizza Shops
Today's pizzerias need to be powered by tech if they want to succeed. One important tech and software solution is the cloud POS system from POSApt. With a system that allows you to get your orders managed, payments funnelled and customers overjoyed, your pizza shop can cater to far more customers far more efficiently.
Retail Industries
1.Flower Shops
Florists can rejoice and sell flowers, bouquets, pots and vases both online and offline with POSApt's cloud-based POS with an integrated e-commerce system. 
2.Clothing Stores
Whether you have one clothing store or multiple stores in different locations, you can manage them all with just one POS system, POSApt. From centralising all orders into one platform to overseeing the performance of all stores from a single mobile device, it's all possible with POSApt.
3.Shoe Stores
Getting your shoe and sneaker store online can be a tough endeavour. But POSApt makes the process all too easy thanks to its e-commerce solution that is integrated with its POS system. This means, you just have to fill in the inventory once and you can start selling online and in-store right away.
4.Cosmetic Stores & Beauty Parlours
What good is a cosmetic store or beauty parlour that doesn't even look elegant or glamorous? Not just the interior design but also the type of POS system you set up matters in how a customer will look at it. So, investing in POSApt that has sleek hardware components and a user-friendly interface can give your business the elegance it deserves.
5.Liquor & Beverage Stores
From legal requirements to frequent performance reviews, managing it all and handling a liquor store can be quite tricky. That's where a dedicated POS system like POSApt can help you get the most out of your business. From keeping track of inventory to recording all transactions and accepting multiple payment methods, POSApt helps you with most of what you think of.
6.Grocery Stores
Whether you run a small grocery store or a multi-isle supermarket, a grocery store POS such as POSApt can help you speed up order management, inventory tracking, customer relationship management, and more. This not only clears up queues at the checkout counter but also makes your customers happy and want to shop again.
In a nutshell, this is a promising addition to the field of restaurant management solutions. Its user-friendly interface complemented by sophisticated functionalities and exceptional customer support makes it an attractive choice for businesses of varying sizes. If you're a business owner in the above-mentioned domains and are looking for a robust value-for-money POS solution, POSApt is a solid recommendation.